Join us for a Career and College Visit with Alexandria Technical & Community College will be avaiable online Thursday, March 11th from 1:00-2:00.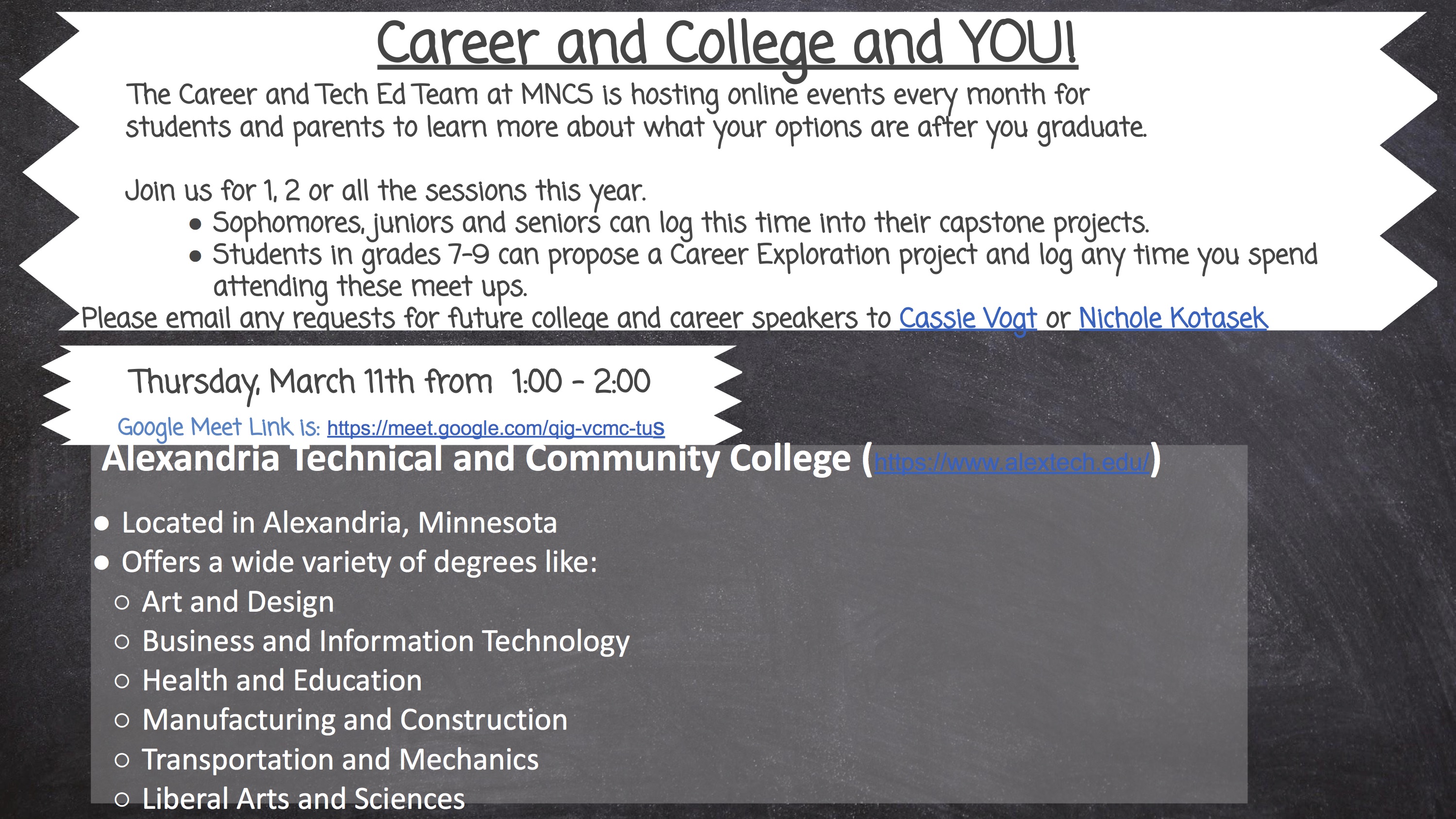 CAREER AND COLLEGE INFORMATION
Technology in this month's Career Corner newsletter. Check out Minnesota State Information Technology Center for Excellence to explore IT careers and educational opportunities available. Read about skills learned in school that help prepare students for the workforce. Watch a short video about Vocational Rehabilitation Services and how they help students with disabilities plan the journey from school to what comes next. Newsletter Link: https://www.smore.com/wf6s8

Post-secondary Enrollment Options (PSEO) is a program that allows 10th-, 11th- and 12th-grade students to earn both high school and college credit while still in high school, through enrollment in and successful completion of college courses at eligible participating post-secondary institutions. For more information click here
For more information about PSEO and College and Career Planning, follow the links below or email Nichole Kotasek (the MNCS PSEO coordinator nkotasek@newcountryschool.com)
MNCS Masks are available for purchase through our online store. Your student will be able to pick up the order at MNCS High School. Shipping is available for an extra fee. Available in Youth and Adult sizes MNCS Online Store
2020 Yearbook - Back in Stock - MNCS 2020 "High School" Yearbook! Pick up a copy from Nancy, Joan or Reta Cost is $15 You can pay with check (made out to MNCS) or on Square online payment: Square-up Online Payment
RETURN TO LEARNING - Scenario 3 hybrid learning model for 7-12th grade students MNCS COVID-19 RESPONSE PAGE
Tuesdays: Anthony, Carrie, and Cory's advisories

Wednesdays; Jenn, Jake, and Jim's advisories

Thursdays: Paul, Nick, and Nichole's advisories
MNCS High School School General Supply List: Communicate with your Advisor for more details.
Lifetouch Picture for 2020-2021 - Still waiting for your Lifetouch photo packages. Any questions regarding your Lifetouch purchase, contact their Customer Service at #866-955-8342
MNCS (virtual) Speech Meets
Speechies, look for an email from Jennifer Brunick (dated 12/20/2020) she also posted the information on our classroom page. And even though we cannot meet in person this year, it is still a valuable experience. If you have any questions please contact Jennifer Brunick jbrunick@newcountryschool.com
Junior High Meets:
Tuesday, March 4, 2021 Watertown-Mayer, MN
High School Varsity Meets:+
Saturday, March 6, 2021 Zimmerman, MN
Saturday, March 13, 2021 St. Clair
Saturday, March 20, 2021 JWP
Saturday, March 27, 2021 Fairmont
Saturday, April 10, 2021 Subsections
Saturday, April 17, 2021 Sections